The parents of Ethan Crumbley have been held on $500,000 bail each after the 16-year-old allegedly opened fire in a high school cafeteria. He is charged with killing two students and injuring 17 others at Oxford High School last week. Prosecutors say he was planning an attack for more than a year and had several guns buried near his home.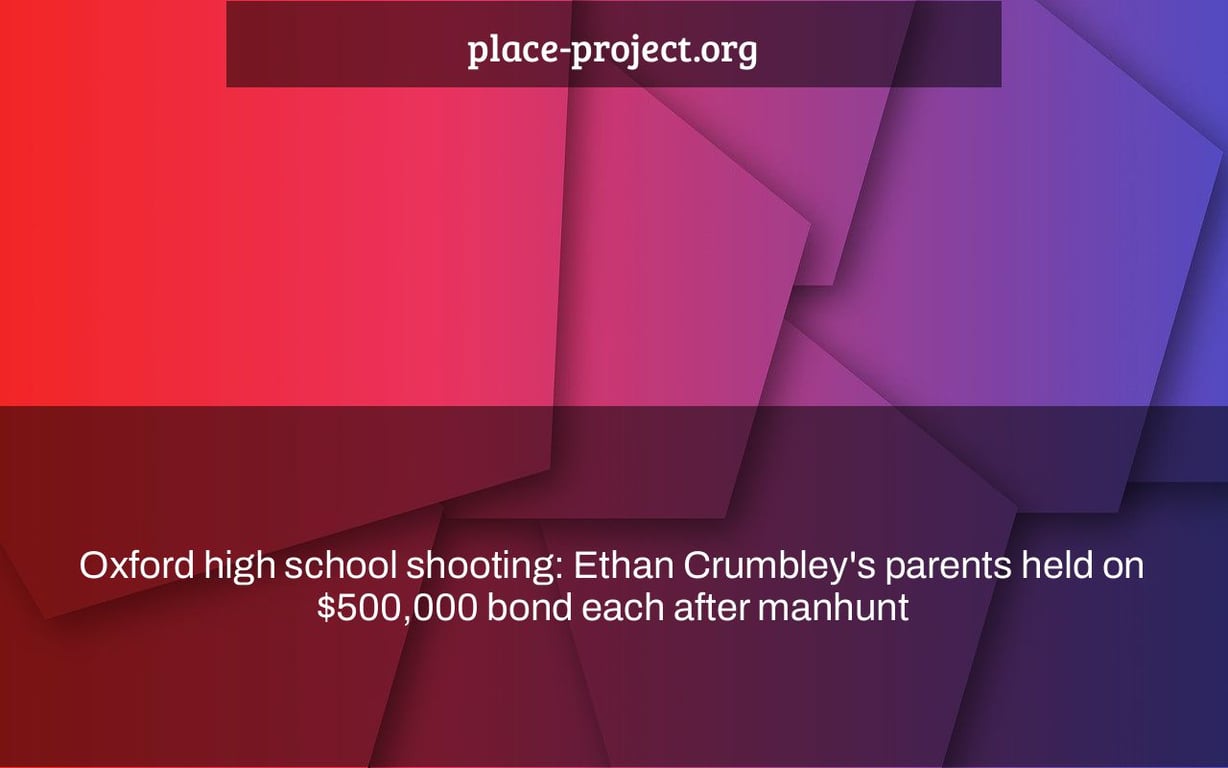 The arrested couple appeared in court by video conference with the judge, their counsel, and the county prosecutor, sitting alone in different rooms.
Both spoke nothing except that they understood each allegation and pled "not guilty" to each. Jennifer Crumbley seemed to weep in between phrases.
During the arraignment, their lawyers emphasized that their clients meant to turn themselves in before police detained them Saturday morning, and that prosecutors' claim that their son had free access to the pistol he's accused of using was false.
James and Jennifer Crumbley were charged with four counts of involuntary manslaughter in connection with the shooting on Tuesday, and were scheduled to be arraigned on Friday afternoon, according to officials.
However, they failed to appear for their arraignment on Friday, prompting a search, according to officials.
After receiving a tip Friday night that their car was close, police said they spotted the pair on the first floor of an industrial or commercial building in Detroit, some 40 miles south of the Oxford region where they reside.
During a press conference early Saturday, Detroit Police Chief James White said, "They looked to be hiding in the building." They were "very disturbed" after being held, according to the chief.
"This isn't symptomatic of turning yourself in, hiding in a warehouse," White said, adding that he didn't know the Crumbleys' plans.
Someone allowed the pair inside the building, according to White, and that individual might face prosecution.
The Crumbleys had fled town for their own protection, according to one of their lawyers, and planned to give themselves in willingly. Shannon Smith and Mariell Lehman, their attorneys, issued a statement on Saturday morning saying they "understand that our clients were apprehended last night, despite our full intention of turning them in first thing this morning for arraignment, contrary to the misinformation that has been rampant in the media."
Prosecutors announced on Friday that the couple would face charges in connection with the shooting for a variety of reasons, including claims that they recently purchased the gun for their son and did not remove him from school despite being informed hours before the killings of a disturbing drawing the teen was accused of making.
In the incident, Ethan Crumbley was charged as an adult with terrorism, murder, and other charges on Wednesday.
Madisyn Baldwin, 17, Tate Myre, 16, Hana St. Juliana, 14, and Justin Shilling, 17, were killed in the shooting, which was the worst on a US K-12 school since 2018 and the 32nd since August 1.
Officials told CNN that a couple withdrew $4,000 from an ATM on Friday.
The US Marshals Service was assisting local officials in their hunt for the pair on Friday, and a reward of up to $10,000 had been offered for information leading to their arrest.
According to a statement from Undersheriff Michael McCabe of the Oakland County Sheriff's Office to CNN, Detroit police made the arrest when a nearby business owner observed a lady standing near "the suspicious car" in his parking lot and phoned 911.
"Both of the fugitives were discovered and captured by DPD after a thorough search by DPD, which included Detroit K-9 units," McCabe said.
Prosecutors were concerned that the pair would flee since they had no links to their neighborhood, and authorities had difficulty tracking down the Crumbleys after their son was arraigned, according to a law enforcement source who spoke to CNN on Friday.
A law enforcement source told CNN that the parents also took $4,000 from an ATM in Rochester Hills, Michigan, on Friday. Oxford is around 10 to 15 miles from Rochester Hills.
The couple's locations were being tracked by law authorities using mobile phone pings, but the signal had lost since the couple's phones were switched off, according to the official.
Before the shooting, prosecutors disclose more about the parents' participation.
The charges came as authorities provided further details about the events leading up to the fatal shooting on Friday.
According to Karen McDonald, the prosecutor in charge of the case, James Crumbley purchased the revolver officials think was used in the shooting with his son on November 26 at an Oxford, Michigan, shop.
Shortly after, his son took to Instagram and uploaded a photo of a rifle with the remark, "My new beauty arrived today. 9mm SIG SAUER "McDonald replied with a heart-eyes emoji.
Jennifer Crumbley also mentioned the rifle on social media, referring to it as "his new Christmas gift," according to McDonald. According to police authorities, his mother also brought him to a gun range the weekend before the school massacre.
A teacher noticed Ethan Crumbley looking for ammo on his phone the day before the massacre and reported it to school authorities, according to the prosecution.
When school authorities contacted Jennifer Crumbley about the incident, she did not reply — but later that day, she texted her son, stating, "I'm not angry with you. You must learn to avoid being caught, "McDonald stated his opinion.
A separate instructor got concerned on Tuesday, the day of the incident, when the suspected shooter drew a drawing of a semiautomatic weapon pointing at the words, "The ideas just won't go away. Please assist me, "McDonald stated his opinion.
A bullet was drawn in another place, with the words "Blood Everywhere" scrawled above it. McDonald claimed there is a picture of a person who seems to have been shot twice and is bleeding between the drawing of the pistol and the bullet.
McDonald said, "Below that figure is a painting of a laughing emoji."
According to McDonald, the message also said, "My life is pointless" and "The planet is dead."
According to McDonald, the parents were summoned to the school for a meeting with a counselor and their kid, who had revised the artwork by wiping off the drawings of the pistol and gory person, as well as the phrases.
Because the parents refused to remove their kid from school, he was permitted to return to class.
According to authorities, Crumbley opened fire outside a restroom later that day, targeting pupils in the corridor and those sheltering in classrooms.
This story was co-written by CNN's Aya Elamroussi, Mark Morales, Andy Rose, Elizabeth Joseph, Melanie Schuman, Sonia Moghe, Artemis Moshtaghian, Sahar Akbarzai, and Kristina Sgueglia.
Watch This Video-