The company's CEO, JD Kim, revealed that Criminals and traders will be monitored for in-game activities of "nefarious gameplay" system. The new systems are expected to start implementation on 6th December 2018.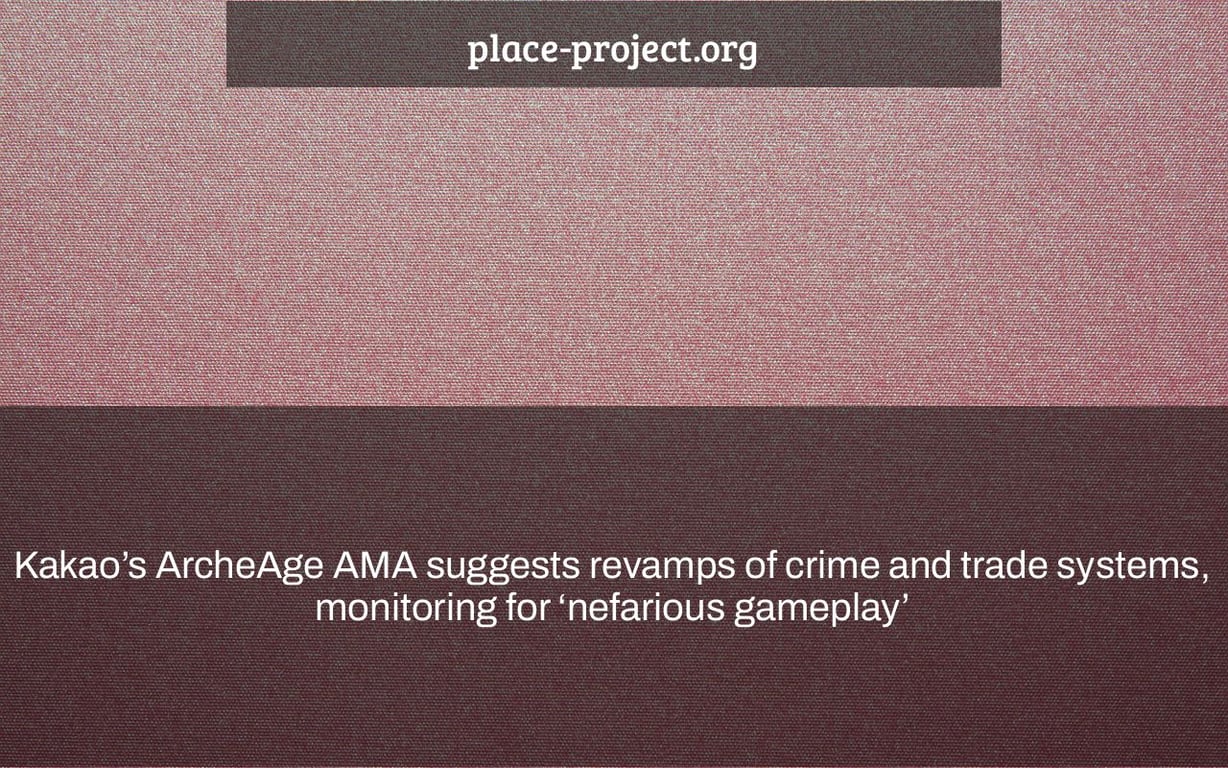 Kakao held an AMA on the MMORPG subreddit yesterday to address player "confusion" over its upcoming management of ArcheAge in the west after its – and all of your characters' – departure from Gamigo. The following are the highlights:
The company claims it will utilize "the same build as [Korea], delivering our area the same material at the same time," but with some "culturalization" – such as distinct events and store goods. The same monthly class balancing patches will be applied as in Korea.
At some time, the criminal justice system and its numerous facets, including the trial/jury system, will be overhauled. A renovation of the trading system is also in the works, followed by a rethink of the fishing system. There's also a hint that aerial combat will be revamped. There are no specifics; the studio only advises gamers to remain tuned.
The group claims to be "constantly monitoring" gold inflow statistics. "We're looking on measures to limit the advantages that alt accounts provide." "[W]e have a specialized staff with expertise in dealing with goldsellers," Kakao said in response to a player's question regarding techniques for dealing with goldsellers. This was reaffirmed in a follow-up answer. "Bots and RMT are dealt with by a specialized crew. The usefulness of this was proved at the conclusion of our tenure on a prior MMO. To counteract malicious gaming, we have a variety of tools and strategies."
Kakao said it will handle revenue on non-Unchained games "soon," but that Unchained requires immediate attention due to its many changes. "We believe the free-to-play model will continue to attract a large number of new users."
"Limited-time products offered in the store will be available for purchase inside the game."
"Both for events and hacker hunts," there will be in-game GMs.
At launch, Kakao will monitor server demand to determine whether additional servers will need to be spooling up.
"We're working on guild-specific PVE and PVP." Options for faction balance are on the table, but the team prefers to avoid them.
"At the ArcheAge, we also acknowledge that production is a critical aspect. However, we're now debating whether or not to integrate production and crafting systems."
Furniture will be added with labor incentives, according to the team.
With the Ipnysh Artifact system, Kakao is researching methods to lessen grind.
A South American server, an Oceania server, or a vintage server are not in the works.
"ArchePass awards will be disclosed shortly," according to the website. For Unchained, there are no plans for a Succubus outfit.
Mistmerrow isn't anticipated to reopen anytime soon.
The Steam relaunch will take a little longer than expected, but it will happen.
Finally, gamers inquired as to what Kakao might say to persuade folks that this time would be different.
Kakao's representative responds, "Nothing." "You'll have to keep an eye on it and make your own decision." I can only say that we have a great deal of respect for ArcheAge, and we're here to help take care of the game and the community in order to provide the greatest possible experience."
The servers will be available tomorrow, however no specific time has been set. The actual land rush does not begin until December 11th.
AMA is the source of this information. Protobear, cheers!
Advertisement
Prior to the expansion's early access, Final Fantasy XIV has released the patch notes for Endwalker.
Next articleWith 18 million registered players, Star Stable celebrates its mobile premiere in the United States.
Watch This Video-